The Footscray United Rangers Blog
14 November 2019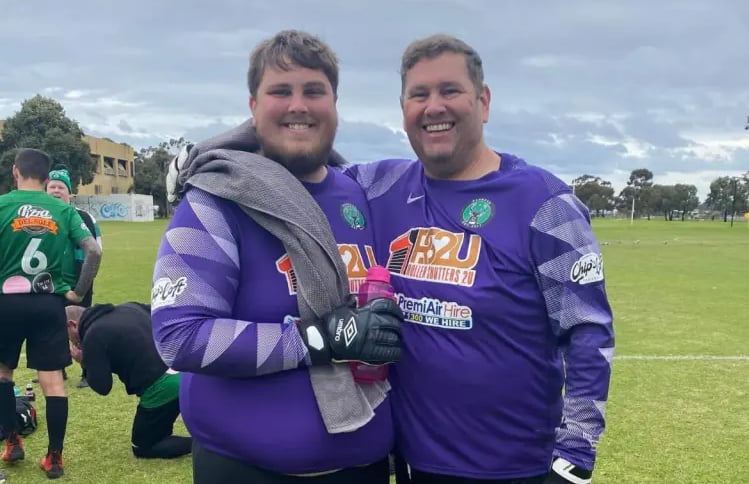 Like Father, Like Son.
27 June 2022
A story of perseverance and friendship
"Maxy, please for the love of god STOP WHINING!", the cry sings out across the rustic yellow/brown grass of Hansen Reserve one humid Thursday afternoon during pre-season. It's early in the training block when players dust-off the cobwebs and add kilometres to softened calves and hamstrings; so you could be forgiven for going easy on the players as they work out the kinks in their passing game.
Max Knell, a Yarraville local and new signing at the club does not follow this ideology. He's a competitor, perfect practice makes excellent execution; a 'hot-head' by nature (and hair colour :P).
The fiery redhead central defender/come-midfielder had arrived a week before from the University of Western Australia's Football Club, the largest suburban club in W.A without peer. To succeed in the state league environment you need to be cut from a different cloth; excellence is demanded of every player both in training and on game day and Max had seen enough of the misplaced passes. 'Come on guys, do you think we'll win games if we can't pass 10 meters away?'. He has a point, in the heat of the moment though with temperatures soaring through the mid 30 degrees Celsius; not every player was willing to hear this message… especially from a new-comer.
Interviewed exclusively by the Rangers Wrap, Max Knell spoke candidly about his first year at the Footscray United Rangers Football Club; the differences between growing up in Perth and Melbourne and his love of film. "I moved from Melbourne to Perth when I was 11, my Dad picked up the family and took us over there as part of the mining boom. Growing up there was so different to Melbourne, after school you would head down the beach with some friends and get in a surf or go swimming. Here in Melbourne though, it's huge, busy and it's hard to make friends here". Speaking with Max it comes through that he is hard-working young man (with his work on the pitch as a defensive midfielder echoing this way of being), and values a life well lived. He laughs when describing his ideal day off from his work as an apprentice plumber "I wake up at 4.30am and work until late, so my ideal day would definitely have sleep in there. I guess, I would watch a movie.. something that is from the film genre- You sure you want to ask me this, because I'll just keep talking. My favourite would be the Zodiac, and you've heard of The Silence of the Lambs? Movies that keep you on the edge your seat, that keep you guessing".
Max impressed from the outset at the club, Club President Nathan McLean and Coach Matthew Demmon impressed with his strength on the ball and range of passing. "You think you're going to knick the ball off of him, but then he shoves his hip out a little bit that belies the strength you think he has… then you're on your butt and he's looking up the field for a pass. He'll go from strength to strength at the club" McLean who partnered him at times in midfield during the season was impressed. "For someone who played nominally as a defender at his previous club, he has settled well into a midfield passing groove and has a very good work rate. You want him next to you when you're in the heat of the game". A highlight of Knell's particular skillset occurred at Keilor Park Training Fields against PEGS; chasing back through midfield to make a saving slide tackle; keeping the ball at his feet, dodging one opponent and turning another inside out before a curled long ball to the onrushing Andrew Hoskin for a chance at goal; bringing about a big cheer from Max when his mate Andy got on the end of it. A hallmark of his game are the multiple efforts he makes when he wins or receives the ball for the benefit of the team.
It hasn't been all smiles for Max though in moving back to Seddon in February, where he grew up. A recurring them during our interview was the importance Max places on his personal relationships, moving away from his brother whom is very close with has been a challenge for him. "Moving away from my parents and brother has been tough. We used to play soccer together most nights after school, he is a defender too. The coaches used to put us at the back together because we were a little chubby as kids, I even turned out in goals sometimes because the coach didn't think I could run". Moving back 9 years later and reuniting with old friends has also been an unexpected challenge: "Most of my friends had changed a lot in the time when I was away, it's to be expected but it was hard for me to adjust when I had to start afresh with new people to make friends'. Max has since gone on to integrate himself very firmly at the club, regularly having a beer after games and hanging out with a number of the boys when he's not working. "Marty (Martin Tran) was especially helpful for me coming to the club, he was really outgoing and friendly.. he's got a lot going on for himself but he's always there at training and asking how you're going. It helped we played a lot together during the first part of the season in the Reserves, so we got to know each other well. He introduced me to a lot of other guys at the club who I hang out with regularly now, guys like Frazer Gentle, Alessando Licul, Yanni Kosmidis, Andrew Hoskin, Harrison Lee, Ashiq Zaman… these are good friends of mine now that I look forward to playing with each week at the club".
It shows that Max's attitude to training and playing has shifted, and is a positive influence on the playing group; cajoling players to work hard and patting them on the back after a particularly good effort. Knell's goals for the 2020 season are to expand upon his dynamic game by using his voice more, getting on the ball to make more passes and cover greater ground during games. The club has been a great place to launch his career as a midfielder, playing most of his 2019 season at he base of a 4 man midfield playing deep to set up play with metronomic passing. If his 2019 was anything to go by, we are excited to see what he achieves in 2020!
By Nathan McLean