The rebirth of Football in Footscray
4 February 2023
Celebrating NAIDOC Week 2023
3 July 2023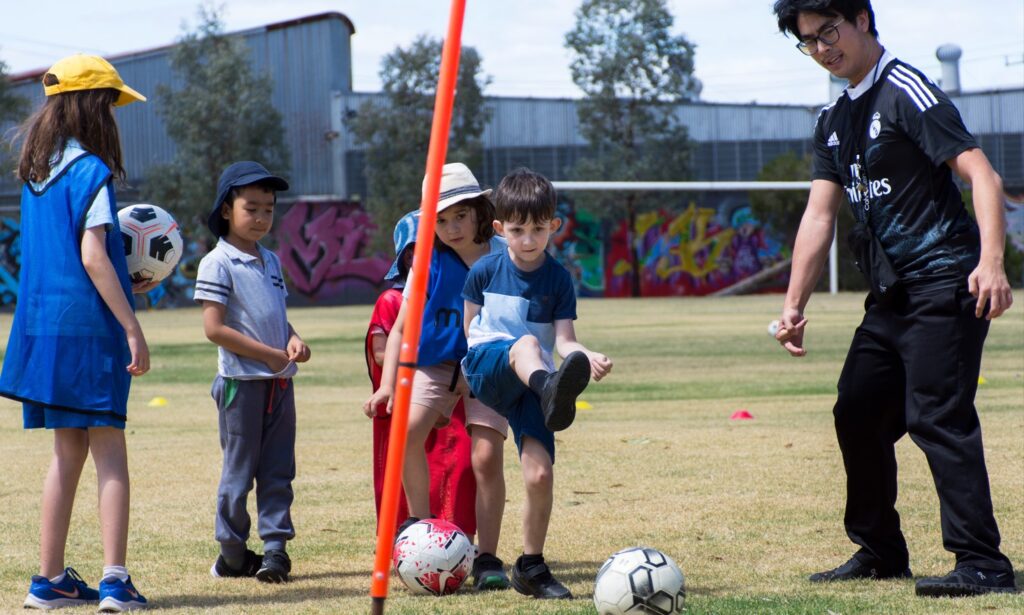 Story as told by Jashan Bors-Viney
"When I was younger yes, I had a lot of anger and resentment towards myself and my condition but today, it's pride. I use it as a sense of pride."
A simple quote that does a better job than I ever could of characterising An Tong, goalkeeper for the Victorian All-Abilities team and newly appointed goalkeeping coach for the Footscray Rangers.
An's positivity beams over the phone. Here is a man who has undergone surgery for Appendicitis just one week ago but insists on chatting about food, football, his work as a teacher, community and banter instead. Glass half full, keep your chin up, every cloud has a silver lining, there's light at the end of the tunnel. These idioms almost manifest themselves in An through the compass of his greatest passion, football.
An played throughout school and has laced up on local football pitches, state league pitches and futsal courts ever since.
"I started playing in primary school just for a bit of fun. I had to play goalkeeper or whatever but at the end of the day, you have to do the best you can anyway."
What he refers to there, the idea that he had to play goalkeeper, is because An is one of approximately 34000 Australians who have Cerebral Palsy (CP). According to the CDC, CP is a group of disorders that affect a person's ability to move and maintain balance and posture. It is the most common motor disability in Australian children and can manifest itself in innumerable different ways.
For An, it has affected his lower body mobility and coordination. To be exact he has poor balance, decreased lower limb coordination, reduced strength, uncontrollable muscle tone in his calves and feet and he has consistent calf tightness.
Most Australians will never be able to properly relate but for anybody reading who has a passion for sport and has been injured in their life I present you with this scenario. All of your mates and buddies are kicking around the footy at lunch and you are sitting alone on the bench with your foot in a cast. Sure, you could get out there and knock it around a bit but you know that if a proper game starts, you'll have to sit out. Either that or the timeless lunchtime routine will have to change exclusively to fit your needs, and you simply don't want to be that person.
It is a lonely, crushing feeling for a young developing human. Take that and make it permanently incurable and it is truly devastating. An took that feeling and said screw it, I'll just be the best goalkeeper I can be and absolutely nobody can do a thing to stop me.
Positivity and perseverance are a powerful combination.
Spurred on by his friends to keep playing in high-school and then further in life, An got very good at manning the sticks. He trained hard, kept fit, honed his reflexes and developed his skills as a traditional 'keeper. There has always been a drive to compete and a desire to get better which brings us to the here and now.
"So last year I really wanted to go for it so I started looking for people around Victoria who were willing to coach All-Abilities and could help me out…my club at the time couldn't do it and I couldn't find anybody in Melbourne who were even a tiny bit affordable so I said oh well, I'll do it myself."
An literally had a Thanos moment, except much nicer and less fictional.
From there, he began the coaching journey by educating himself online via the classic medium of Youtube and then went for his certificates. The Footscray Rangers were the club he ended up at in a coaching capacity and it was a perfect fit.
Rangers came into existence in 2017 as a community-based team focusing on mental health, inclusivity and positive competition. In 2022, they became the first club in the Western Metropolitan area to field a junior All Abilities team. Everything the Rangers do is dedicated to creating a welcoming environment for all their members and players regardless of age, ability, background, gender and religion. That attitude is pivotal for An.
"I felt instantly at home, it really meant a lot that there were people whom I could talk to if shit ever hit the fan. That has never actually happened but it's so good to know that the support is there,"
With more clubs like Footscray developing similar programs along with other exciting movements like The Wanderers Foundation's recent fundraiser, support for All-Abilities football has never been more prevalent than it is today.
That wasn't always the case, as An attests when he talks about his first time training for the Victorian Para team back in 2015.
"There just wasn't a proper structure in place and it was very raw and disorganised…we basically had parents coaching us."
The situation is vastly better in 2023. An's voice radiates joy as he talks about the team that Victoria have put together. How good it is to compete with people who can relate to his story and how it has helped turn that childhood resentment into a source of pride and power.
An talks about the determination that he and his squad-mates have to eventually rise up and beat New South Wales. There is a sense of focus and passion emanating from him when An talks about this that speaks to the fortitude he has exhibited his entire life.
Therein lies the next point of growth Australia must address with regards to All Abilities football. Not everyone has that inherent positivity. There are so many wonderful things happening in Aussie sport like The Footscray Rangers, like Australia being chosen to host the Para Asian Cup, like All-Abilities April which is about to kick off in Victoria.
Participation and funding have certainly improved and work is being put into the normalisation of All-Abilities sport. Despite all of this, there are still so many hurdles to jump over. The structures are getting there but it is not uniform across the nation. There's simply no consistency.
"There is definitely way more support than there used to be but most of it is New South Wales and Queensland…I hope it changes because it is still so hard to get out there and play!"
Footballing federations in Queensland and New South Wales host regular coaching workshops whereas the same thing can only be seen sporadically at best within The Garden State. Whether that is because of a lack of government funding or due to general inefficiency within Football Victoria, there is clearly too much discrepancy from state to state.
That An was unable to find one affordable goalkeeping coach in Victoria speaks to the lack of structure and government assistance at the moment. That a state-level player has to go looking for coaching at all is worrying as well. That he had the focus and desire to teach himself is remarkable but not everybody can do that. Not everybody can turn their anger and resentment into competitiveness and pride.
Hopefully one day, with more coaches like An and clubs like the Rangers, there will be equal support and opportunity for all personality types across the entirety of Australia.